We implement environmental management system, resource conservation, and community development programs. Our oil and gas field received PROPER Gold and Green rating in Environmental Management Performance Rating Program from the Ministry of Environment and Forestry.
Energy and Water Efficiency
Our energy and water management is conducted in accordance with the government policy implemented for the use of New and Renewable Energy (EBT). We apply the energy and water management system to achieve a reduction in energy and water consumption every year.
PHI has saved hundreds of millions of dollars on energy efficiency and tens of millions of dollars on water efficiency.
Greenhouse Gas (GHG) Reduction
To reduce GHG emissions, we consistently conduct various emission reduction efforts in all sectors of activity. These efforts include the use of low-emission gas turbines, optimization of operating facility maintenance, optimization of underwater inspections, optimization of transportation fuels, minimization of unplanned shutdown, optimization of compressors, reduction of gas flaring by using Gas Recovery Compressors, and the use of systems Vapor Recovery Units (VRUs).
PHI has managed to save hundreds of millions of dollars from the GHG emission efficiency program.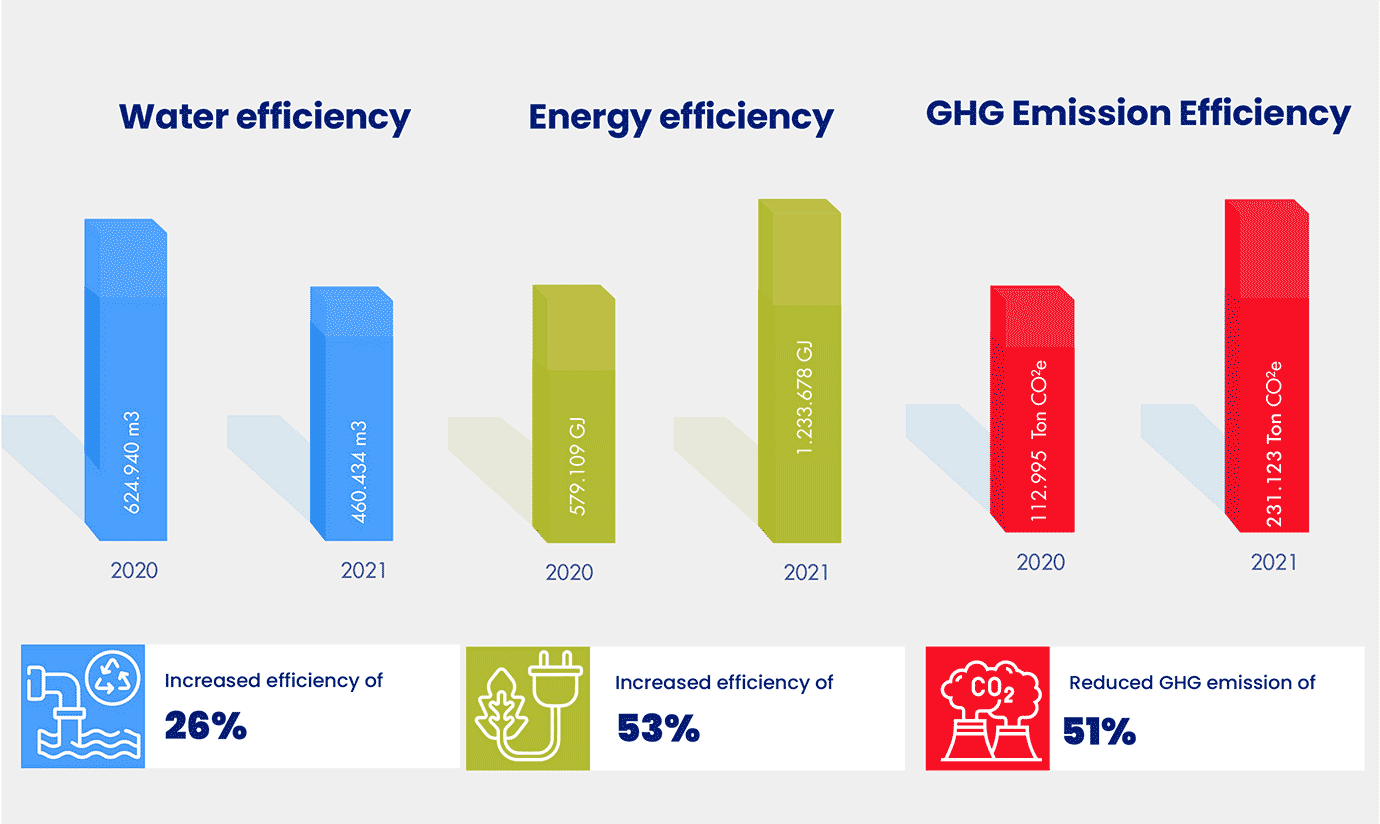 3Rs (Reduce, Reuse, Recycle) of B3 and Non-B3 Waste
Our commitment to preventing environmental pollution and waste management is contained in our HSE policy, to avoid, reduce, or control hazardous waste, oil spills, and gas emissions as well as improve the quality of wastewater effluents.
The forms of reduction and management of B3 waste that have been carried out include reusing chemical raw materials that are still suitable for use in the production process, reducing the use of used plastic drums, using the centrifuge method to reduce B3 emulsified sludge waste, extending the life of lubricating oil in operating activities.
The methods for reducing and managing non-B3 solid waste are adjusted according to the type, namely recyclable waste and naturally biodegradable waste. These methods include the use of food waste and grass into compost products, the reduction of plastic bottles of bottled water, and the recycling and reuse of damaged office furniture.
PHI has managed to save up to tens of millions of dollars in budget from the 3R program for B3 and non-B3 waste.